Have you used your Weight Watchers point for the day but are still hungry? Check out this list of Weight Watchers Zero Point Foods.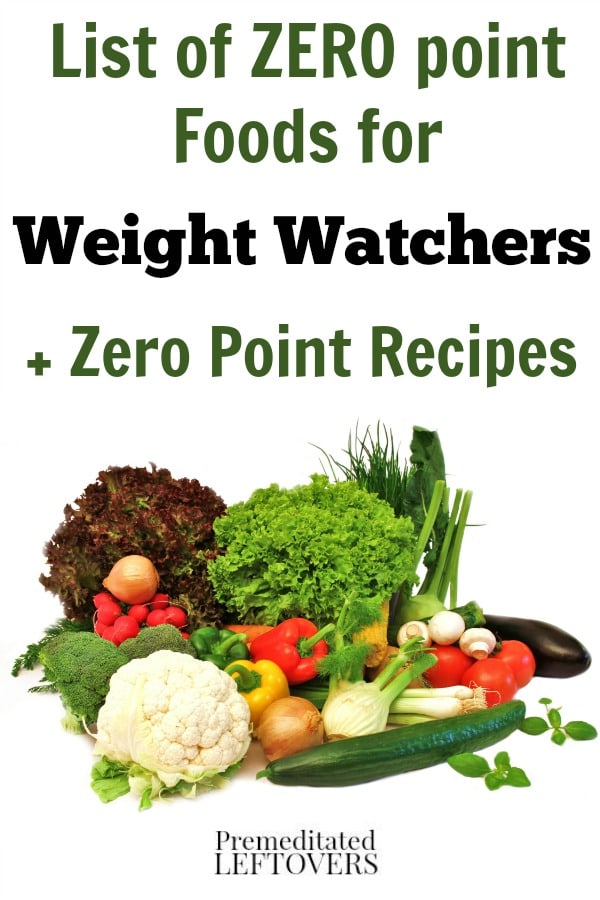 Weight Watchers is an easy diet plan to follow and many people like it due to how easy it is to adapt to their own lifestyle. The idea is you get a set amount of points per day and you create meals and snacks around those points rather than counting calories or eating a strict list of foods. One thing that is so great about the plan is there are many foods to eat that have absolutely zero points. You are free to eat them anytime.
There are even recipes that others have developed using these zero points WW foods as well. You can create meals and snacks that don't cut into your points allotted for the day. Here are some of the Weight Watchers Zero Point Foods as well as a few great recipes that are also zero points to help you plan your meals.
WEIGHT WATCHERS ZERO POINT FOODS
ZERO-POINT VEGETABLES:
Acorn Squash
Artichoke Hearts
Arugula
Asparagus
Bamboo Shoots
Bean Sprouts
Beets
Bell Peppers
Bok Choy
Broccoli
Brussels Sprouts
Butternut Squash
Cabbage
Carrots
Cauliflower
Celery
Chard
Cucumber
Eggplant
Endive
Fennel
Green Onions
Hot Peppers
Jicama
Kohlrabi
Leeks
Lettuce
Mixed Greens
Mushrooms
Okra
Onion
Radishes
Rudabaga
Snow Peas
Squash
String Beans
Spinach
Sugar Snap Peas
Turnips
Watercress
Zucchini
ZERO- POINT FRUITS:
Apples
Apricots
Bananas
Blackberries
Blueberries
Cantaloupe
Cherries
Clementine Oranges
Fresh Cranberries
Fresh Dates
Grapefruit
Grapes
Honeydew
Kiwi
Lemons
Limes
Mangoes
Nectarines
Oranges
Papaya
Passionfruit
Pears
Peaches
Pineapple
Plums
Raspberries
Strawberries
Tangerines
Tomatoes
Watermelon
ZERO-POINT CONDIMENTS/FLAVORINGS:
TO CONTINUE, SEE THE NEXT PAGE (CLICK THE  NEXT BUTTON BELOW)