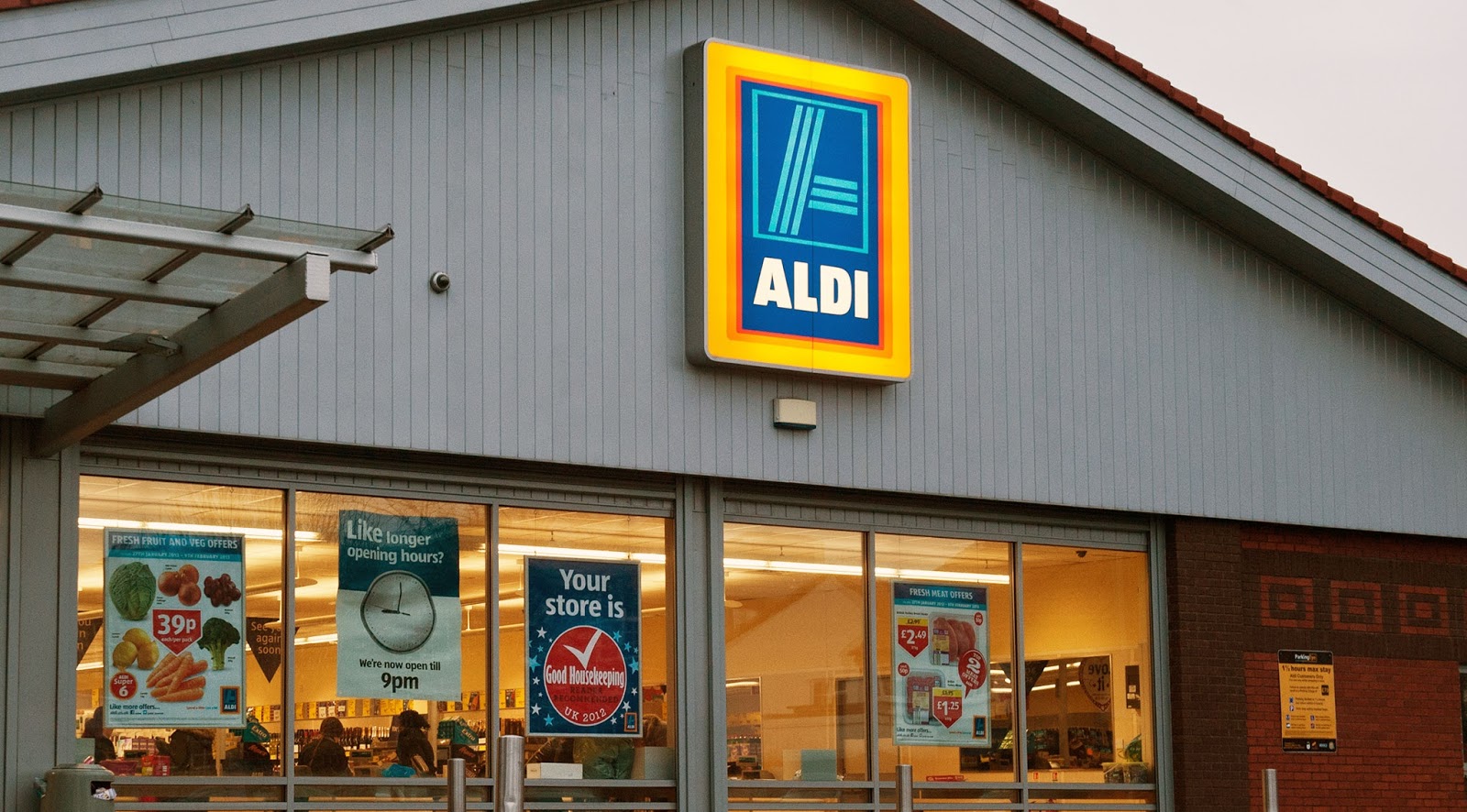 If you are fortunate enough to have a grocery outlet in your area, use it!  50-70% savings can easily be found simply by going out of your way once or twice a month.  ALDI is a grocery outlet chain that can be found in many places of the country.  Find out if there is a location near you HERE.
A fantastic weight loss coach has come up with some amazing 21 Day Fix weekly meal plans with complete shopping lists made up of groceries purchased at ALDI . Try one of these plans one time and you will be convinced that clean eating and completely affordable and delicious!
Here is affordable clean-eating, 21 day fix weekly menu with shopping lists for two people. This is 1,200 – 1,499 calorie plan. You can increase servings if your plan requires more calories. Use your containers as your guide for serving sizes.
MONDAY
Breakfast:
Sliced Strawberries
2 tablespoons Nut Butter
1/2 Whole Wheat Mini Bagel
Lunch:
Shredded Chicken Breast
Romaine Lettuce Boat
Dressing
Chopped Tomatoes
Snack: 
Greek Yogurt, Blueberries, Shakeology
Dinner:
Turkey Meatballs
Cauliflower Mashed Potatoes, Steamed Carrots
Snack: String Cheese
TUESDAY :
Breakfast: 
Blueberries and Oatmeal
Lunch: 
Steamed Broccoli with Shredded Cheddar
Leftover Turkey Meatballs
Snack:
Shakeology
Dinner:
Cauliflower Mashed Potatoes
Oven Baked Chicken Breast
Steamed Carrots
Snack:
Strawberries and Greek Yogurt
WEDNESDAY
Breakfast:
3 Strips Turkey Bacon with Melted Shredded Cheddar, 1/2 Whole Wheat Mini Bagel
Lunch:
Romaine Lettuce Chopped Shredded Chicken Breast
Romaine Lettuce Chopped
Chopped Tomatoes
Dressing
Snack:
Apple and Shakeology
Dinner: 
Turkey Salsa Soup
Snack: 
Grapes
THURSDAY
Breakfast: 
1 Slice Whole Wheat Toast
Scrambled Eggs
Fresh Strawberries
Lunch: 
Ground Turkey and Peppers
(Eat me in a bowl!)
Apple and Nut Butter
Snack: 
Shakeology
Dinner: 
Turkey Salsa Soup Leftovers
(When you make something like this, it's always a good idea to make extra and store it. Prepping your food is one way of helping you stay on track with your menu plan!)
Snack: 
String Cheese and Peanuts
FRIDAY
Breakfast:
Blueberries and Oatmeal
Lunch: 
1 Slice Whole Wheat Bread
2 tablespoons Nut Butter
String Cheese
Snack:
Shakeology
Dinner:
Cauliflower Mashed Potatoes
Two Oven Baked Chicken Breasts
Steamed Carrots
Snack: 
Strawberries and Greek Yogurt
SATURDAY
Brekfast: 
Scrambled Eggs
Lunch: 
Shredded Chicken Breast mixed with Hummus
Pita Chips
Snack: 
Shakeology, Nut Butter and 1 Apple
Dinner:
Whole Wheat Spaghetti Noodles and Sauce
Steamed Broccoli and Carrots
Snack: 
Two Hard Boiled Eggs
SUNDAY
Breakfast:
Blueberries and Greek Yogurt
Lunch: 
Whole Wheat Wrap
Shredded Chicken and Peppers
Snack:
Shakeology, 1 tablespoon Nut Butter,  1/2 Whole Wheat Mini Bagel
Dinner:
Chopped Romaine with Shredded Chicken Breast
Tomatoes, Dressing, Shredded Cheese
Snack:
Grapes
ALDI SHOPPING LIST (THE SHOPPING LIST COST AROUND $100.00 AND THERE IS ENOUGH FOOD HERE FOR 2 PEOPLE!)
L'Oven Fresh Whole Wheat Mini Bagels
Fit N Active Whole Wheat Bread
Fit N Active Whole Wheat Wraps
Nut Butter of Your Choice
(Various available at ALDI.)
Strawberries
Grapes
Apples
Blueberries
Romaine Hearts x2 Bags
Tomatoes
Fresh Cauliflower Heads x2
Red, Orange, Yellow Peppers
Eggs
Turkey Bacon
Plain Greek Yogurt
2 Bags Kirkwood Frozen Chicken Breasts
Fit N Active 93% Ground Turkey x3 lbs.
Baby Carrots
Potatoes
Fresh Broccoli
Fit N Active Whole Wheat Pasta
Fit N Active Pasta Sauce or Simply Nature Tomato Sauce
Oatmeal